The solar energy system will be installed on the roof of the Brooklyn Army Terminal, a dynamic industrial campus on the Sunset Park waterfront owned and managed by the New York City Economic Development Corporation (NYCEDC). In November 2018, NYCEDC awarded a solar roof lease to a project team comprised of local non-profits UPROSE and Solar One, Co-op Power, 770 Electric Corp., and Resonant Energy. The solar energy system and will be owned and managed by Co-op Power's New York City Community Energy Cooperative in partnership with UPROSE, a Sunset Park-based environmental justice organization. The solar project will provide local employment to Sunset Park job trainees and electricity bill savings to nearly 200 households and small businesses.
UPROSE: Founded in 1966, UPROSE is Brooklyn's oldest Latino community-based organization. An intergenerational, multi-racial, nationally-recognized organization, UPROSE promotes sustainability and resiliency in Sunset Park through community-based planning, policy advocacy, popular education, organizing, and youth leadership development. Central to the organization's work is ensuring meaningful community engagement, participatory planning, sustainable economic development, and community leadership development with environmental and climate justice at the center.
Solar One: Founded in 2004, Solar One is an environmental nonprofit in NYC that runs diverse programs including K-12 environmental education, green workforce training, and programs that help New Yorkers adopt clean energy. Solar One's Here Comes Solar program assists affordable housing providers and community organizations advance their solar projects. Since 2014, Solar One has helped more than 250 NYC buildings install solar. The organization also completes customer enrollment for community solar projects, and is providing technical assistance and workforce training for some of NYC's first community shared solar projects.
Co-op Power: Founded in 2004, Co-op Power is a consumer-owned sustainable energy cooperative. The organization operates a regional network of Community Energy Cooperatives to create a multi-class, multi-racial movement for a sustainable and just energy future. Co-op Power is owned by 750 individual and institutional members, and develops clean energy projects across Massachusetts and New York. Co-op Power has a breadth of experience developing, owning and operating renewable energy projects, ranging from a $5.4M biodiesel production facility to rooftop solar projects on NYC affordable housing.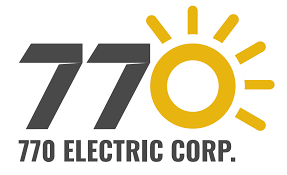 770 Electric Corp. (WBE): Founded in 2006, 770 Electric Corp. and its affiliate Grid City Energy, are a family-owned turnkey solar installation company. 770 Electric Corp. has over 12 years of commercial and residential solar experience in New York City and Long Island. The company has developed and installed hundreds of successful solar projects, including many flat roof installations that are similar to the Sunset Park Solar. 770 Electric Corp.'s commitment to excellence and efficiency allows it to partner effectively with affordable housing providers, non-profit partners and City agencies to ensure strong solar project execution.
Resonant Energy: Founded in 2016, Resonant Energy is a mission-driven, solar energy development company dedicated to making solar power accessible to urban low and moderate income communities. Resonant Energy was incubated by Co-op Power and provides financial modeling and project management expertise to support the successful implementation of solar projects.
NYCEDC: New York City Economic Development Corporation's mission is to encourage economic growth in each of the five boroughs of New York City by strengthening neighborhoods and growing good jobs. NYCEDC runs the Brooklyn Army Terminal (BAT) through a lease with the City of New York and solicited proposals for a community solar garden on the BAT roof in spring 2018 with the goal of facilitating solar projects that provide economic opportunity to New York residents and businesses.