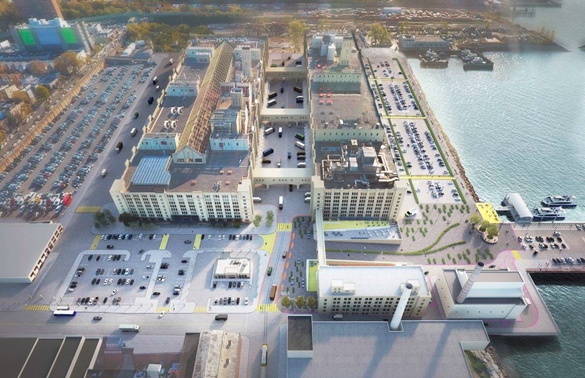 Sunset Park Solar will be New York City's first community solar project owned and operated by a cooperative for the benefit of local residents and businesses. Community solar allows renters, homeowners, and small business to go solar without installing anything on their roof. When you subscribe to a community solar project, you save money on your utility bills by receiving solar energy credits from a project on a roof elsewhere in the City. As a subscriber, you're not only saving money on energy bills — you are also helping your community and city take on the challenge of climate change with a clean, renewable energy project.
Through a partnership with NYCEDC, Sunset Park Solar is being developed on the roof of the Brooklyn Army Terminal. The project team includes non-profits UPROSE and Solar One, energy cooperative Co-op Power; development partner Resonant Energy; and solar installer 770 Electric Corp. UPROSE and Solar One offered a solar installation training course to local residents in Spring 2019, and 770 Electric Corp. will hire six local job trainees to work on the installation. All workers on this installation will be paid a good living wage. Ultimately, the system will be owned by UPROSE and the subscribers through a cooperative ownership structure.
Enrollment is still open to Sunset Park residents. If you live in zip codes 11220 or 11232, and are interested in signing up, fill out the intake form on the homepage.
Sunset Park Solar Impact
Est. Lifetime Solar Production: 19.6 million kilowatt hours
Participants: ~200 Sunset Park households and businesses
Est. Lifetime Net Savings: $1.34 million ($6,700 per participant)
Lifetime Greenhouse Gas Emissions Offset: 13,056 tons
About Community Solar
How does community solar work?
Upon signing up, subscribers are allocated a portion of the community solar system that is based on their historical electricity usage. The number of solar panels allocated to a subscriber is based on their historical energy usage.
The system generates electricity that is exported to the electric grid.
The local utility (Con Edison) places a monetary value on the energy the system produces. The value of energy is distributed among subscribers' bills in the form of a credit on their energy bill.
Subscribers reduce their electric bill drastically through the community solar credits. The credit amount is based on the amount of electricity that each subscriber's allocation of panels produced in the previous month.
Subscribers keep approximately 15% of the credit value, and pass along the remainder to the solar company. For example, a subscriber that receives a $100 bill credit would pay $85 to the solar company, receiving a net savings of $15.
Cooperative Ownership
Co-op Power has regional Community Energy Cooperatives throughout the Northeast which develop, own and operate clean energy projects. In addition to utility bill savings, all subscribers will become members of the New York City Community Energy Cooperative (NYCCEC). Each subscriber-member will have a vote in deciding how to invest the NYCCEC's resources, including any operating profit from the solar installation. Operating profit can be reinvested in additional solar projects, can be used to launch complementary energy efficiency campaigns, or can be distributed to members as dividends. The NYCCEC will convene regular meetings that are open to all members where issues relating to Sunset Park Solar and additional projects being developed by the NYCCEC will be discussed and voted upon.
There is a $250 membership fee to join the NYC CEC and sign up for Sunset Park Solar. The membership fee can be paid monthly and offsets the operations costs of the NYC CEC. By paying monthly, Sunset Park Solar subscribers will see a net discount of 13.5% instead of the 15%. Typically, this a few dollars a month and still provides guaranteed savings. Once the full membership fee of $250 is paid, the discount will increase to 15%.