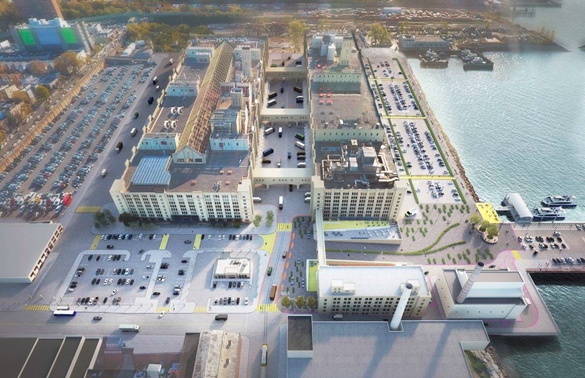 Sunset Park Solar will be New York City's first community-led solar project owned and operated by a partnership between residents and businesses. Community solar allows renters, homeowners, and small businesses to go solar without installing anything on their roof. When you subscribe to a community solar project, you save money on your utility bills by receiving solar energy credits from a project on a roof elsewhere in the City. As a subscriber, you're not only saving money on energy bills — you are also helping your community and city take on the challenge of climate change with a clean, renewable energy project.
Through a partnership with NYCEDC, Sunset Park Solar is being developed on the roof of the Brooklyn Army Terminal. The project team includes non-profits UPROSE and Solar One, development partner Working Power; and solar installer 770 Electric Corp. UPROSE and Solar One offered a solar installation training course to local residents in Spring 2019, and directed trainees to various solar projects in New York City. All workers on this installation will be paid a good living wage. Ultimately, the system will be owned by UPROSE and its developer partners.
Apart from bill discounts, the revenues UPROSE will receive from its ownership will help to fund a community resiliency fund that will be governed by community members. 
Enrollment is still open to Sunset Park residents. If you live in zip codes 11220 or 11232, and are interested in signing up, fill out the intake form on the homepage. 
Sunset Park Solar Impact
Est. Lifetime Solar Production: 19.6 million kilowatt hours
Participants: ~200 Sunset Park households and businesses
Est. Lifetime Net Savings: $1.34 million ($6,700 per participant)
Lifetime Greenhouse Gas Emissions Offset: 13,056 tons
About Community Solar
How does community solar work?
Upon signing up, subscribers are allocated a portion of the community solar system that is based on their historical electricity usage. The number of solar panels allocated to a subscriber is based on their historical energy usage.
The system generates electricity that is exported to the electric grid.
The local utility (Con Edison) places a monetary value on the energy the system produces. The value of energy is distributed among subscribers' bills in the form of a credit on their energy bill.
Subscribers reduce their electric bill drastically through the community solar credits. The credit amount is based on the amount of electricity that each subscriber's allocation of panels produced in the previous month.

Con Edison adds the bill for participating in  Sunset Park Solar to your electricity bill. This bill is always 15% less than your original electricity bill.